This is a residential villa located in Lavasan, Tehran. This is a 720 M2 Villa designed in three floors located in a 1746 M2 garden. We had three main concerns for the location of the building. Blocking the view of neighbors and providing privacy for the occupants, maximum use of landscape and nature and also having the main entrance near the main street.
Because of religious restrictions, the client asked for maximum privacy and separation between private spaces and public areas. So, the main concept was two different zones entwine together like a Lego and form an integrate, layered building with three privacy zones. Accordingly, we designed a U-shaped building tangled with a U-shaped pool intersecting in a courtyard. This courtyard is in the heart of the building, all parts of the building including bedrooms and halls and kitchen are connected through this courtyard. With all the doors open, this courtyard connects the guest area with dining room and kitchen on one side and the entrance and staircase on the other side with the pool. With all the doors close, this courtyard separates all parts of the building and provides privacy zones if needed. We also designed three transparency levels for all surfaces of the building, using a brick pattern. We have solid walls for surfaces facing neighbors which the pattern is "bricks filling the bricks", we have semi transparent walls for corridors and semiprivate area which the pattern is "bricks minus bricks" and we have transparent surfaces which are windows mostly facing the courtyard of directions without any viewer.
First floor contains the main entrance, courtyard, guest room, dining room, kitchen and guest hall. We also have a side corridor next to the main entrance which includes bathroom for pool area, storage and dirty kitchen with a separate entrance for staff. In second floor, we have bedrooms and TV room and third floor is the master suite with access to roof garden.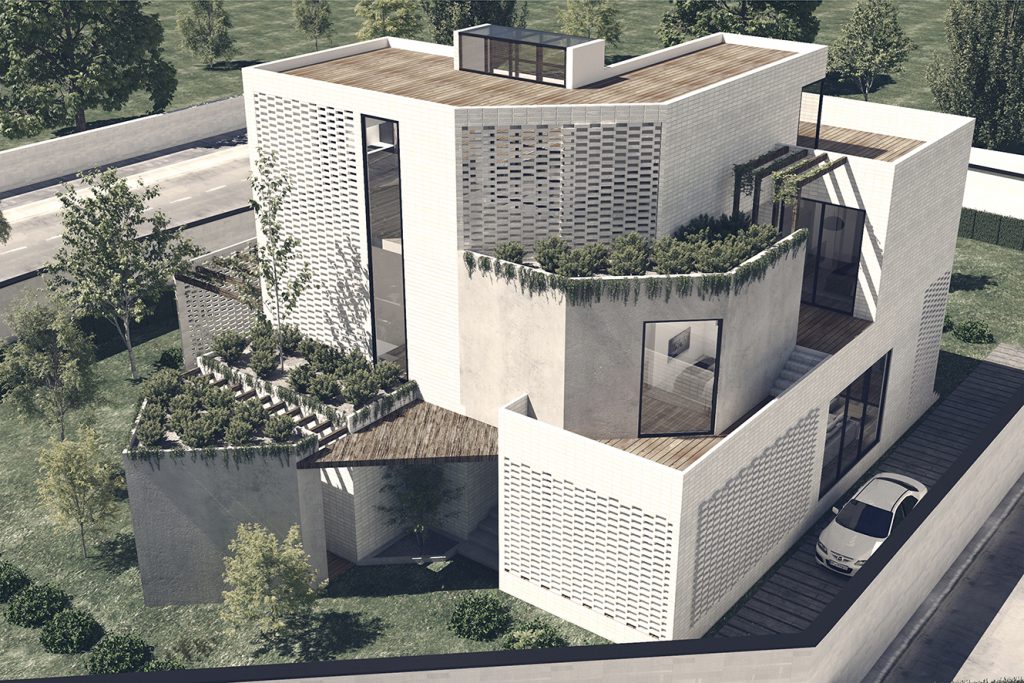 Location

: Lavasan, Tehran

Area

: 720 M2

Design Team

: Khorshid Mazaheri, Masoumeh Shafiee

Year

: 2020

Project

: Architectural and Interior Design